The Blue Hole
The Blue Hole is an area with secluded and relatively untouched falls located in the hills of Ocho Rios, Jamaica. Its best feature is probably that it is not commercialized in any way. Everyone who visits The Blue Hole raves about its beauty and serenity.
Dunns River Falls
Dunn's River Falls is one of Jamaica's national treasures. Globally, it is as well known as reggae and equally stimulating.
Shaw Park Garden
The 25 acre garden features around 600 species of flower along with many ferns and shrubs such as bougainvillea, palms, hibiscus and ferns. The entrance to Shaw Park is some 900 feet above sea level, giving a great view of Ocho Rios from the top of the gardens. The park is then tiered over many levels, meaning that many different plants which thrive at different altitudes can be grown here.
Horse backriding
Fun in the sun, riding through some of the scenic spots of jamaica and finishing in the beautiful blue Caribbean Sea.
jamaica zipline adventure
One of the top attractions in Jamaica, offers an exciting Jamaica zip line adventure in Ocho Rios. Whisk through the verdant rainforest canopy and glide from one platform to another, while you catch a glimpse of the Dunn's River Falls near Ocho Rios! Our secure zip lining tour consists of the following:
dolphin cove
This Ocho Rios package brings you in close contact with the dolphins where you experience a one-to-one encounter as you swim and frolic with two friendly dolphins. You'll also see exciting birds, tropical fish, reptiles and amazing Jamaican plants as you take a gentle nature walk through lush, unspoiled tropical rainforest!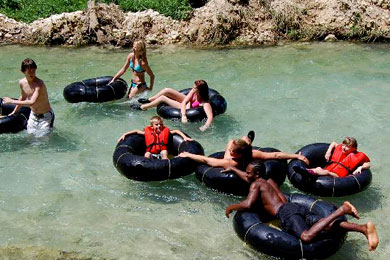 jamaica tubing
Experience and attentive tubing guide will take you on a breath taking journey through and gentle rapid down this scenic white river for approximately 45 mins in a bottom inner tube.
Bob Marley Tour
When one thinks of Jamaica (mon), you can't help but think of the King of Reggae, Bob Marley. Journey to the village of Nine Mile, where Bob lived, loved and played. Learn about the Rastafarian religion he practiced and made famous as well as seeing his final resting place. A moving tribute to a great musician
Furn gully
The area gets its name from the wide variety of ferns which grow in the area, towering high above the road forming a shady tunnel of lush greenery. The varieties of plant life may be lost on many visitors but keen botanists will enjoy seeing approximately 300 varieties of fern in addition to other species such as Blue Mahoe and Banana trees.
Rose Hall great house
Located approximately 9.25 miles (15 km) east of the beautiful beaches of Montego Bay, Rose Hall Great House is one of the most famous and intriguing historical structures in Jamaica. Built in 1770 by George Ash for John Palmer, Custos of St Thomas, and his wife Rosa. According to local legend the Great House is to this day haunted by the malicious spirit of Annie Palmer, "The White Witch", the tempestuous widow of John Palmer's grandnephew John Rose Palmer, who eventually came to own the estate
Ricks Cafe
Negril day trip experience the west side of Jamaica which has the best beach on the island 7 mile of white sand
ATV tours
This tour take you up in the high mountain of Ocho Rios over looking the beautiful Caribbean sea and through the valleys. if you don't mind a little bit of dirt getting on your hands this is the tour for you.
Prospect Plantation tour
Entertaining tours of a working plantation. Segway PT rides, Jitney tours, Culinary cooking tour and more!!
Luminous Lagoon in Jamaica
Visit Jamaica's fascinating Luminous Lagoon on a night cruise! Cruise around the glowing lagoon in a small boat at night with your expert guide and go for a dip in the colorful water. Enjoy a complimentary rum beverage on board as your guide answers any questions you have about this fascinating lagoon. This is a must-see attraction perfect for the whole family!
TUFF GONG INERNATIONAL
Bob Marley recording studio
Pictures from available tours